PRASPAR PRESS TRANSLATION PRIZE 2022
We're delighted to announce the first ever Praspar Press Translation Prize, an annual competition for published and unpublished translators working from Maltese into English. 
The aim of the prize is to help us discover and build a network of the best emerging translators working between these languages and to help them develop their practice.
Entrants are invited to submit their translation of a short piece of published writing of our choosing. This year's extract is taken from the National Book Prize-winning novel In-Nar Għandu Isem by Gioele Galea (Horizons, 2021)
The winning translation will be featured in the second edition of our anthology series, Scintillas: New Maltese Writing 2, published in November 2022. The winning and shortlisted entrants will also be offered a translation workshop with Praspar Press editors and published literary translators Jen Calleja and Kat Storace.
The prize will be judged by Jen Calleja and Kat Storace, publishers at Praspar Press, and Emmie Francis. Emmie is commissioning editor at Faber & Faber, where she acquires and edits literary fiction and non-fiction and literature in translation. Forthcoming publications in translation include Cousins by Aurora Venturini and The Mark by Fríða Ísberg, and an as-yet-untitled novel from the Catalan by Pol Guasch. Before joining Faber, Emmie worked at The Bodley Head/Vintage (Penguin Random House UK) and Grove Atlantic in New York. In 2019, she was a recipient of a Zev Birger Editorial Fellowship at the Jerusalem International Book Forum (JIBF).
To enter, please send an email to info@praspar.com with the subject line 'Praspar Press Translation Prize 2022'. You'll receive an email back with the selected extract and instructions for how to submit your entry.
Closing date: Midnight (CET), 10 July 2022

TERMS & CONDITIONS
Please read these eligibility and entry rules carefully before submitting. Submission of an entry is taken as acceptance of the entry rules. For any queries not covered below, please email info@praspar.com.
The competition is open to published and unpublished translators working from Maltese into English.
Entries should be emailed to submissions@praspar.com as a Word Document, double-spaced, 12pt.
Each entry should be accompanied by a biographical note of 100–120 words.
Only submissions received by midnight on 10 July 2022 (GMT) will be considered.
Entries that are incomplete, are corrupted or submitted after the deadline will not be considered.
No editorial feedback will be provided to unsuccessful entrants.
We welcome entries from all ages, race, sexualities, genders, socio-economic backgrounds and nationalities.
The judges' decision is final and we cannot enter into any correspondence regarding the shortlisted and/or winning submissions.
Praspar Press will have the exclusive right to publish the winning translation, but reserves the right not to publish.
Only submissions which meet all Terms and Conditions will be considered.
By entering this competition, each entrant agrees to be bound by these Terms and Conditions.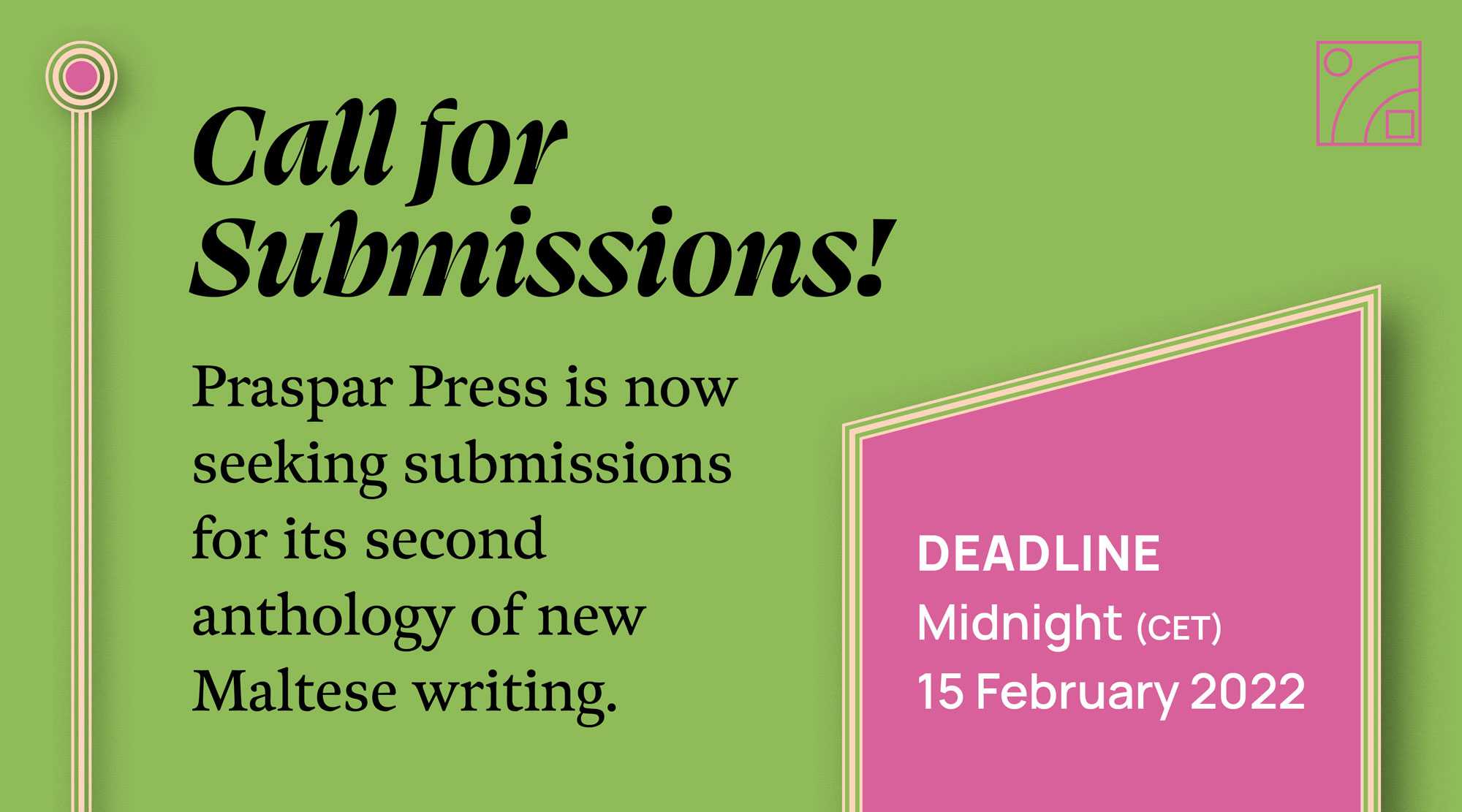 CALL FOR SUBMISSIONS: SCINTILLAS
*PLEASE NOTE: Submissions for our second anthlogy of Maltese writing are now closed.*
Praspar Press is now seeking submissions from Maltese writers and translators of Maltese literature for its second anthology of new Maltese writing.
We are looking for work translated into English from Maltese accompanied by the original Maltese text, and work originally written in English.
Submit ONE of the following:
Poetry
Up to two poems of any length.
Short Fiction
One story up to 3,000 words.
Novel Extract
One extract up to 3,000 words.
Literary Non-Fiction
One essay or one extract from a longer work up to 3,000 words.
Any multiple submissions or submissions over the set length will unfortunately not be read.
How to submit: Email your submission along with a short bio note in a Word document to submit@praspar.com
Deadline: Midnight (CET), 15 February 2022.
A note on 'Maltese writing': You might be Maltese and based in Malta; have Maltese heritage and live elsewhere; or have been based in Malta for a length of time and consider yourself part of Maltese life and culture. Feel free to get in touch if you are unsure whether this opportunity is right for you.